Imagen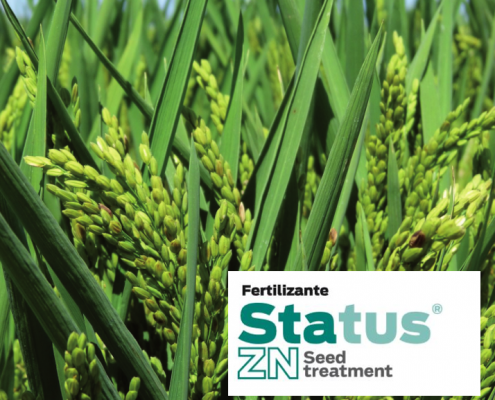 The aim is to incorporate this key nutrient during the treatments of wheat, corn, sorghum and rice seeds.
Zinc is an important micro-nutrient for the development of crops and its availability in the soil is being affected by factors such as early sowing, low organic matter, environments of high productivity, thick textured soil and PH over 7. In the Pampa Region, new results have shown a deficient level of zinc below 1.2ppm.
Rizobacter has recently added to its portfolio a liquid fertilizer based on Zinc Oxide for the nutrition of STATUS ZN crops. It allows the incorporation of this key element in the treatment of corn, wheat, sorghum and rice seeds.
The zinc works in important enzymatic processes in the plant; its activity is linked to the production of growth regulators and auxins synthesis (vegetable hormones). It also intervenes in the metabolizing of Nitrogen and contributes to the synthesis of proteins essential for growth.
For example: in corn, during the first stages of development, the deficiency is magnified because the root is scarcely developed so as to explore the big volume of the soil in search of nutrients. The liquid fertilization with zinc during the treatment of seeds allows for the correction of this deficiency, favorably impacting root and the rest of the plant.
The preparation developed by Rizobacter stands out for its excellent coverage of the treated seed. Its high viscosity value allows the product to have fluidity on all the different types of cereal in which tests were carried out.
This product is compatible with all the different seed treatments available for pre-sowing from Rizobacter. It also complements the action of the micro-granulated fertilizer starter Microstar Pz, which is laid with the seed in the sowing lines.
On Rice Farms
Zinc deficiency is one of the most common physiological disruptions that can occur on rice-flooded fields; the production mode most used in Argentina. The critical limit that differentiates soil deficiency from those with sufficient zinc is in the order of 1mg/kg of Zn (1ppm). 
PH superior to seven generally accompanies deficient concentration of zinc, which also means an excess of active Calcium in the soil. As a result of the experiences and tests on liquid fertilizers with zinc, the common practice has been developed among producers in the last few years has pushed for an increase of cultivated area in the province of Entre Rios by 60 percent. This practice makes the absorption possible in the early stages of the plant, in this way generating constant and significant responses.